In 2012, Chris in collaboration with Trevor Cartner and Ray Palmer, acquired Discovery Park from Pfizer, the pharmaceutical giant, who for commercial reasons had opted to reduce the workforce from 8,000 to 600 and over time to 104.
This resulted in much of the site being surplus to requirements of the company. Pfizer did, however, wish to retain a staff presence on the site as part of their future plans.
The site comprised over 230 acres with 3 million sq ft of buildings, warehouses, laboratories and office space – Discovery Park is the largest site of its kind in the UK and one of the largest in Europe.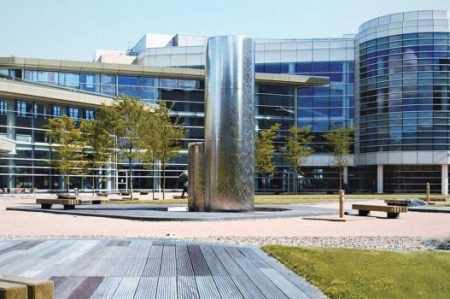 On acquisition, a co-ordinated plan to diversify Discovery Park was formulated, to develop and revitalise the site. This included a new management structure, new marketing and public relations strategies, a renewed focus of engagement with stakeholders, such as Kent County Council (KCC) and Dover District Council (DC), as well as the general public. In addition, a detailed study was undertaken to establish the profile of likely tenants, so that Discovery Park would attract a variety of quality sustainable businesses.
With the assistance of Pfizer, KCC, DC, Locate in Kent and other educational groups, many ex Pfizer employees were retrained, so that they could compete for jobs within the wider workplace and the new Discovery Park.
In addition, students were invited to attend Discovery Park to use state of the art laboratory facilities for projects and also engage in work experience with Pfizer, in the hope that young people would seek careers within the scientific and pharmaceutical world – in essence the future are young people, hence the investment of time and money.
The location was also used for exhibitions, seminars and workshops by numerous local voluntary groups, which helped Discovery Park to become a central part of the community, which was important, so that the public had buy in.
Due to the many actions put in place, by 2016, Discovery Park had been transformed into a thriving business location, with over 200 companies employing over 3,000 people on site. It had also become one of Europe's most innovative science locations, with Pfizer to this day, being regarded as a leading light within the pharmaceutical industry.
Indeed, in recent years, Pfizer has been a world leader in relation to the Covid-19 pandemic response, with the introduction of the Pfizer vaccine, which indicates the importance of investing and safeguarding this vital sector for the future.
In 2017, Discovery Park was sold in a multi-million deal to an American based consortium.